I apologize in advance for my lack of creativity on this one, but we're still recovering from a whirlwind birthday weekend. Amelia is officially a 3-year-old. She had a great time being spoiled by grandparents, aunts, uncles, and cousins. The weather decided to cooperate so we could gather with neighbors, family, and Amelia's BFFs at a nearby park for playtime and cake. My girl is spoiled rotten, but soooo happy!
Weekends like this remind us how blessed we are to be parents.
A special thank you shout-out to BuildASign.com for Amelia's birthday signs! Our girl loved the
custom signs
on her big day.
Click the photo to see all their fantastic sign and banner options.
Some highlights of our party weekend:
A life-size Minnie Mouse balloon!
Ready.... Aim....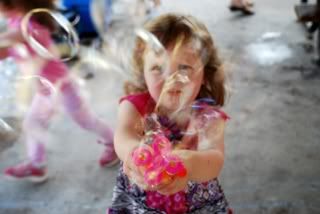 FIRE!
Playground time
Yummy Publix cake - Minnie Mouse, of course!
Sugar and spice - sweet girls
Here's to a great 2011! Love you, my precious daughter.