Have you ever wondered why I refer to one-third of my mommy persona in quotation marks?
"Perfect" Mommy?
It is simple, really. I do not believe that perfect exists. Perfect is what you are "supposed" to be if you religiously follow all the baby books and doctor advice. Perfect is something that know-it-all mamas would like you to believe is attainable (These mamas are simply 
not
sharing all the times they themselves faltered. Don't be fooled!).
If I do something "perfect" for a total of 1 hour out of my day, even if it's four separate 15-minute events, then I call it a success.
When I met (virtually, thanks to Twitter) the mama behind
Holly's House (Not a perfect mom's blog)
, I knew she would make a
"perfect"
guest poster. Thank you, Holly! Non-perfect moms are always welcome here.
- - - - -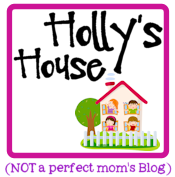 A guest post by Holly
The Perfect Mother. Do you know her? Do you think you are her? Do you strive to be her?
Or are you like me? Have you pretty much given up on the notion of the Perfect Mother? Yup, that's right, I have given up my quest to be the Perfect Mother.