Amelia turns three in a few short weeks. Three years old! That is hard to believe. But, I have plenty of time to brood and sulk in future posts. This one is super exciting for me. I finally get to reveal Amelia's big girl bedroom!
Here are our "before" shots: This is Amelia waking up on the last morning of her baby room.
The theme was frogs, and her walls are a light sage green and white. Daddy put up the chair rail and painted everything, including the adorable custom cattails to match her bedding.
I was on a mission to find bedding that would increase the girly factor but still allow us to keep the wall colors and Daddy's special cattails. Do you know how difficult it is to find girly bedding with frogs?!?
Here she is, celebrating her new big girl bed - before Mommy found anything to put on it.
But thanks to countless Internet searches and finally JCPenney.com, I found the perfect bedding set! Bright girly colors, frogs, and butterflies. And a sale price too. Woooo hoo! Check out my princess' lovely new boudoir: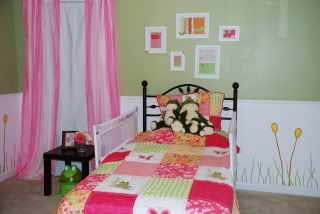 "Mommy! I very, very like it!"

Now, some details:
I found the sheer flowy pink and white curtains at WalMart. These may be Amelia's favorite part of the room. She loves to touch them and ooh and ahh at their silky feel.
The wall decor is 90% mine. I purchased plain, inexpensive white frames, a pack of coordinating scrappbook paper, and some stickers. Voila! We have feature wall art for above the bed:
Similar idea for the other wall, except I used tissue paper and photos of Amelia. This was up in her nursery also, I just changed out the paper areas with her new colors.
Most moms of little girls probably have more hairbows than they can deal with. I love the rainbow effect of multiple hairbows, so I made my own hairbow hangers. I purchased dragonfly and frog pre-painted wood pieces from the Michael's craft store, Attached some ribbon with craft glue, and clipped on the hairbows. It looks adorable on her wall!
Finally, I accented some existing wall features with stick-on mirror butterflies and pink star-shaped flowers (found on clearance at Target!) to pull in the butterfly theme. While at Target, I happened to notice some new ecclectic bug and butterfly frames and picked up two of those to fancy up her dresser:
We love, love, love the transformation. I'm by no means a Martha Stewart (or my amazingly creative friend, Cheryl), but I had a LOT of fun with it. Yay, for Amelia's room growing up!
Amelia growing up? Hmm... that's an entirely different feeling.