I first participated in
AllThingsFadra
's
Stream of Consciousness Sunday
a few months ago upon the death of my 99-year-old grandmother. The post was titled
This is not goodbye...
and it did my heart some good.
This week, I'm joining in once again. Here are the "rules":
Set a timer and write for 5 minutes only.
Do not edit the post. No proofreading or spellchecking. This is writing in the raw.
Publish it somewhere. Anywhere.
Link up to #SOCSunday on All Things Fadra.
- - -
To my sweet princess,
I cannot believe how beautiful you are. We spend a lot of time together, and I take every opportunity I can to just
look
at you. I take in your sea blue eyes, your long full eyelashes, your button nose, and that sweet pink mouth. I observe your light curls, your sassy three-year-old fashion sense, and your painted little toenails. You take my breath away. I am so lucky you are mine.
But if I can ingrain one thing in your mind, my dear, it is this: beauty will
never
be the most important thing. Sure I sometimes feel my heart skip a beat when you look at me with that gorgeous face... but I am even more proud when you show me the talents of your brain. You are independent, creative, and such a quick learner. Daddy and I both marvel at the things you remember. Sometimes you describe scenes that took place when you were still in diapers. Often we teach you a word once, just to hear you use it proficiently the very next day.
I know you like princesses... and you will always be
our
princess. Not just because of your beauty, but for so very much more. For your beauty, your kindness, your humor, your grace, your creativity, and your brains.
I am thankful for you every day.
You will go far in this life.
If you stay just the way you are.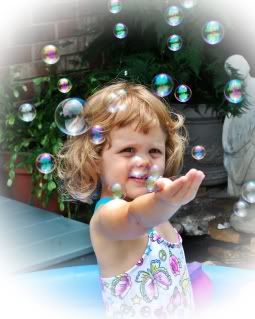 - - -