Amelia was treated to her very first big-screen movie yesterday morning. Our local theathers offer free children's movies on Wednesday mornings, so it was a no-risk event. I thought we'd have to leave halfway through.
But to my surprise, Amelia did really well! I shouldn't be surprised after experiencing the miraculous effect of the car DVD player while on vacation. There's nothing like a really BIG screen with moving pictures and colors. Amelia sat in her seat and barely moved for over an hour.
She enjoyed her experience - I think. But did you ever stop to think about the movie Polar Express from a 2-year-old's point of view? The entire first half of that movie can be scary! She gripped my arm from about 10 minutes in, until the train reached the North Pole.
There's the obvious scary scene with the broken toys:
And the frightening gruff hobo on the rooftop: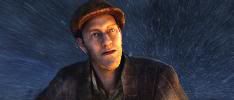 And the also-gruff engineers:

And believe it or not, Amelia even grabbed my arm whenever this kid talked! I guess his harsh voice and know-it-all aggression were cause for some concern.

Amelia is always concerned about boo-boos. On other people as well as herself. So when the train hit the patch of ice and went out of control, she nearly freaked out yelling, "Oh no kids! Watch out kids! Stop choo-choo, STOP!"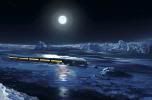 Thank goodness for the North Pole!!!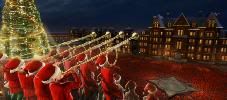 Amelia loved the colorful ending to the movie with all the elves and gifts. And she waved her little heart out when Santa departed on his sleigh. All ended well for the kids, and all ended well for our very first movie theater adventure.
But...
I'm not sure we'll attempt a paid movie just yet. While she sat still and behaved well, she also acted as a narrator throughout the entire movie. I didn't worry so much knowing that everyone watching got in for free, but if a family spends $40+ to see a movie, they may not want Amelia's view of every scene for two solid hours.
"A choo-choo train!" "Where is your ticket, kid?" "Uh oh - hold on!"
"It's snowing outside." "Fix it! He fixed it!" "I don't like that."
"Watch out moose! (to the caribou in the movie) Oh no moose!"
"Elf! Another elf! Another elf! Look Mommy, presents!"
"Bye-bye Ho Ho. See you soon Ho Ho! Bye! I waved! I waved!"
(Warner Brothers movie, The Polar Express, as narrated by Amelia)